Reporting
As the leading manufacturer of car mats in the UK, our buying power is one of the best in the country, so these benefits can be passed on. We can price car mat sets or 'Packs' on bulk delivery or as an 'all in' cost of the required Pack and carriage invoiced direct to the dealer. We provide a monthly reporting system as standard, which clearly outlines every transaction between the dealer and Unique - this ensures that you are aware that all your vehicles are being supplied with the product, on time and to specification.

We can also offer rebates back to the leasing company, which is effectively administered within the pricing to the dealer - this rebate may go some way toward your company's operating costs. You can be assured of the most competitive pricing on all of our products.

Client Reports
The demands of our clients are varied and often complex. Here at Unique we pride ourselves in having the service systems in place to adapt and tailor a reporting system to comply with even the most exacting customer requirements, ensuring you get the reporting you need when you need it.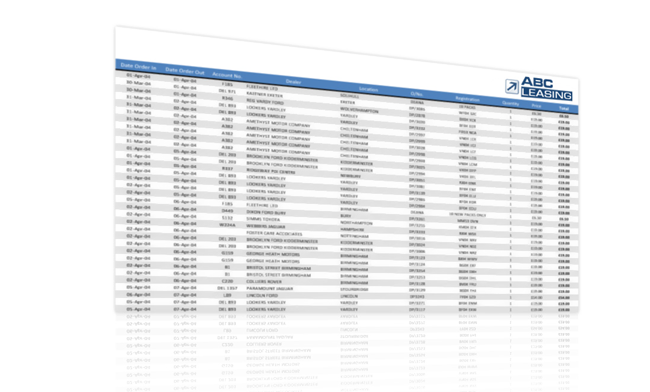 Dealership Driver Pack Ordering Checks
We are aware that on occasions, there can be a discrepancy between the number of vehicle orders that a Lease company places on Dealerships compared to Driver Packs ordered by the Dealership.
Depending upon the type of costing process in relation to the pricing of the vehicle and Driver Packs, there is a possibility that the cost element for a Driver Pack is being wasted if the Dealerships are not putting the Packs into vehicles.
Perhaps more importantly, should the Driver Pack contain essential Roadside Safety items and they were not available for use by the driver in the event of an incident then, under Duty of Care / Corporate Manslaughter issues, non placement of packs by dealerships could have very serious implications.
Unique is able to offer an 'Order Cross Check' facility whereby upon receiving details of the vehicle orders that the lease company has placed, this list will be cross checked to ensure that relevant dealers have placed Pack orders. Dealerships that have not ordered within an agreed time frame will be contacted for their Driver Pack order. In the event of not being able to secure an order a "Defaulters" list can be provided.